Let's get blunt. Selling a product is NOT the same as selling a personal service. There is no personal service offering (like real estate representation) that sells itself. If the phone rings, it is chance or luck, not a repeatable strategy. 
You see, it doesn't matter how smart your marketing is. It doesn't matter how personable and knowledgeable you are. If you can't bring a prospect to take action, your real estate practice is a hobby, not a business. 
I once entered a new farm area where my research showed no one personally LIKED the dominant agent. Yet it proved very difficult because even thou he wasn't liked, he had the most signs in the yards. Why? He had expert skills in the art of influence to have sellers, buyers, and investors take action. Now he later had a massive failure, yet during that, 18 month period was a fierce competitor. 
Step 1: Change Your Mindset 
When your mind has blown something up in your head, it can feel like this vast unmanageable task.  We know what we think about expands. Maybe you are looking at it head-on and not taking the time to "unwrap" each of the layers. Your brain sees "call ten today and 50 prospects this week" and panics! That's natural, acknowledge it. 
This is where you choose between a fixed or growth mindset. When those negative thoughts come up, a growth mindset will do four things:
Pause
Acknowledge the thought
Isolate and redirect
Discover what else is possible
Maybe you think, "I have no time?" "I hate making calls!" "I'd rather be doing anything else," yet you and I know that taking the time to make the calls, write the notes, send the texts is vitally essential to a consistent stream of business. 
We are ALL in sales, and sales is the #1 business skill needed for success
Step 2: Talk About It
Are you in a small mastermind group? If not, it is easy to create one with a few other like-minded individuals. Meet up at least once a month. In the sales industry, most of us have a mastermind group, a mentor, or a coach that we go to for any of our struggles in business. If you don't, you are missing a valuable connection and resource for your success. 
Talk through the struggles you're feeling and include all of the possible success you could experience by taking the necessary steps.
Your real estate sales practice can feel lonely, but it doesn't have to be. 
Step 3: Jump in 
While it is easy to say and harder to do, there is no more real way to get uncomfortable then just to do it!
Whatever "it" is for you, taking the plunge will cause your nerves to soar and the butterflies in your stomach to flutter, but I promise you, taking action is the best way to earn your success.
Maybe your first action is to crack your code and the code of your key prospects, it's easy at jparcode.com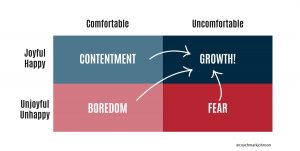 There you have it: change up your mindset, talk about and jump in. Three steps that will serve you and your real estate business well. If you would like a copy of my outline of "From Fear To Prospecting Mastery" email [email protected]