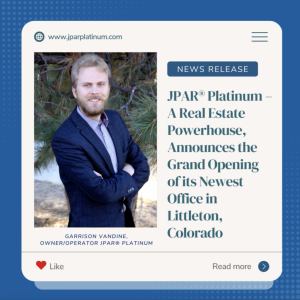 JPAR® Platinum, a real estate powerhouse, has announced the grand opening of its newest office in Littleton, Colorado, owned and operated by 9-year industry veteran Garrison Vandine. The company specializes in residential real estate property sales, with a commitment to providing exceptional service to home buyers and sellers throughout Littleton and the surrounding area. The new office, located at 8122 Southpark Lane Unit 209, Littleton, Colorado, opened on January 1, 2023.
"We're thrilled to be opening our newest office in Littleton and to be able to serve the real estate needs of this growing community," said Garrison Vandine, Owner, of JPAR® Platinum. "The agent compensation plans are very attractive and when combined with enhanced marketing, training, and technology, the growth opportunities for our sales professionals are unmatched," added Vandine.
"We are very excited about our growth prospects in Colorado and throughout the United States in 2023," said Laura O'Connor, President & COO of JPAR® Franchising. "JPAR® was founded by top producers for top producers and we are so proud to have Garrison Vandine and the entire JPAR® Platinum team representing the JPAR® brand in this important and growing market."
JPAR® Platinum's new office opening in Littleton, Colorado, marks a significant milestone in the company's growth strategy. The company's commitment to providing excellent service, comprehensive support, and attractive compensation plans for its sales professionals is expected to drive growth and success in the Colorado real estate market and beyond.
About JPAR® – Real Estate: JPAR® – Real Estate (www.jpar.com) is a full-service real estate brand and franchise platform offering a highly competitive transaction fee-based model and agent-centric culture. The JPAR® platform provides agents seven (7) days-per-week support, a comprehensive tech stack, marketing, lead generation, training and mentoring. JPAR® affiliated owners benefit from compliance review, 1-on-1 consulting, recruiting support and a peer network of influential industry leaders. The company boasts more than 3,800 agents operating in 64 offices across 24 states and closes $7.8B annually in sales volume.
Media Contacts:
Matt Gentile
412.477.3349
matt@mybffsocial.com