Frisco, TEXAS (November 21, 2022) On November 17, 2022, Chief Economist of NAR, Lawrence Yun, provided a virtual economic update to over 1,000 of JPAR® – Real Estate's agents and guests. Over the course of his time spent, Dr. Yun shared comprehensive market insights and data regarding rising interest rates, inflation, and the impact this has had on the real estate industry and recent home sales. He also shared his projections leading into 2023, and answered questions asked by attendees.
"With rising concerns for the future of the housing market, we are adamant about sharing the latest in market trends, " said President of JPAR® – Real Estate, Mark Johnson. "Dr. Yun is a valued resource for our agents and owners as he is the premier source on understanding and sharing the economic realities of today's market in correlation to the issues and conversations our associates and affiliates are currently having."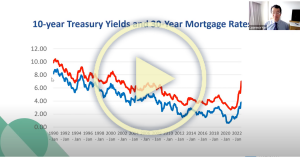 "It is essential for agents and consumers to understand what is happening in today's market," said. Dr. Yun. "The real estate transaction starts with the agent. By being well informed, our professionals are able to address the concerns of their clients while setting realistic expectations. JPAR® does a wonderful job of keeping their agents in-the-know and I am happy to take part in the process."
Dr. Yun's update is one of many special sessions that JPAR® has hosted amid the shifting market. Other reputable industry leaders JPAR® has had speak include Tom Ferry, Travis Robertson, and Tanya Waymire.
JPAR® plans on hosting another educational session before the end of the year with more planned for 2023.
About JPAR® – Real Estate: JPAR® – Real Estate and JPAR® Franchising is a full-service real estate brokerage and franchise platform offering a highly competitive transaction fee-based model and agent-centric culture. The JPAR® platform provides agents 7 day-per-week broker support, physical office locations, a comprehensive tech stack and open architecture, physical office locations, marketing, lead generation, training, coaching, mentoring and agent health care. The company boasts more than 4,000 agents operating in 70 offices across 26 states and closes more than $8B annually in sales volume.
To learn more about JPAR®, their services, agent, and ownership opportunities, visit www.jpar.com today.